Philippine Times – Blog posts
Highlighting integrity to strengthen our education system
As an established provider of education courses for international students, with a strong reputation for being a dynamic and progressive organisation, Lawson College is very proud of the values which underpin how it operates.
We are one of approximately 4,000 Registered Training Organisations international students can access in Australia, and we believe that the open and honest culture we have created, and our students enjoy, sets us apart from other providers.
In September, we highlighted the importance of integrity and its role in creating a stronger educational system.
In an article published by the Philippine Times, Matthew Thompson – Business Development and International Engagement at Lawson College – outlined the importance of maintaining the integrity of the Genuine Temporary Entrant student visa system.
He wrote: "The integrity of GTE status at the application stage is crucial, to prevent undermining of the international education industry….international education is crucial to Australia."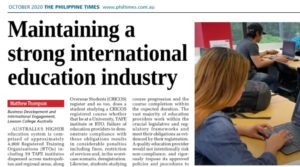 Committing to compliance to create a stronger international education industry
As an established provider of quality education to international students in Australia, Lawson College understands the important regulatory frameworks which govern how we operate.
There are also strict regulations which our students must follow to maintain the status of their Student Visas.
When institutions and students work together to meet these regulations, the outcome is a strong and harmonious education ecosystem, but that is not always the case. Just like many other aspects of life, there are exceptions to the rule which can disrupt the system.
In October, we highlighted the importance of compliance for both institutions and students, in an article published in the Philippine Times.
Matthew Thompson – Business Development and International Engagement at Lawson College – penned the article.
He wrote: "A quality education provider would not intentionally risk compliance. Quality education providers are committed to exceptional education and services to their students and supporting them to meet their goals."
·      You can read the article in full by downloading it here: Maintaining a strong international education industry (PDF)
GEARING UP FOR COVID-19
by Lawson College Australia
As we adapt to the changes that COVID-19 has brought to us, we as an institution oath to protect the safety of majority. With that, we executed a pre-caution practices to ensure that we will be able to provide safe environment for everyone. Provided the below the implemented restrictions during COVID-19:
Students are prohibited to enter the premises unless they received an email coming from their assessors regarding their presence in the campus
Unexpected visit will not be entertained. If necessary, please ensure to schedule your visit by calling the reception.
No mask, no entry is strictly followed in all campuses. We also appreciate if you'll be wearing your mask for the whole stay in the campus.
In entering, kindly ensure to sanitise and temperature check in the front desk. You will also be asked to take note of your data in the log sheet provided for references.
Our campus is also equipped with anti-bacterial soaps and dryer for handwashing.
Kindly observe the maximum capacity of people in each room. Information needed is posted in each door of the rooms.
All concerns regarding academic will be directed via email.
If you are being tested for the COVID-19, please avoid going outside until the result of the test for the safety of everyone.
For the more updates, please visit the Lawson College Australia (hyperlink fb account) Facebook account.
Victorian Government were able to identify list of COVID-19 Testing Centres across all suburbs to provide service to all residents of Victoria. We highly recommend to get tested whenever you experience symptoms or being exposed to individuals who were tested positive. Early detection and prevention is needed for us to help our state to flatten the COVID-19 curve.